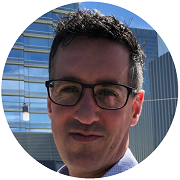 About Me
Patrice Guay. IT Infrastructure team manager with 6 years of experience.
Innovation, continuous improvement,
profitability
My Story
I am a bilingual manager who, in a perspective of continuous improvement and profitability, increases organizational efficiency. I identify, update / implement IT infrastructures and techniques that are efficient, reliable and easy to maintain.
Organized

Leadership

Teamwork
I have established and developed competent multidisciplinary technical teams responsible for implementing and supporting IT infrastructure (servers, networking, storage, databases, virtualization and cloud services). I am a skilled negotiator and communicator with a sense of business and innovation, with know-how in process automation.
I stand out in a context of significant technological change. I promote collaboration, information sharing and expertise between teams, a force that maximize the achievement of objectives.